Inviato da: veu il 8/11/2019, 18:54
Myth: A Frozen Tale è un nuovo cortometraggio ispirato al mondo di Frozen 2 e utilizza la tecnologia VR, ha una musica originale e la direzione artistica è affidata a Brittney Lee. Il cortometraggio è diretto da Jeff Gipson.

A new VR Short, Myth: A Frozen Tale, will debut at the World Premiere of #Frozen2. Directed by Jeff Gipson, the short is inspired by the world of Frozen 2 and utilizes the latest VR technology, an original music score, and stylized art direction by Brittney Lee.


Inviato da: Daydreamer il 8/11/2019, 20:50
Adoro Brittney Lee e i suoi personaggi pucciosi, la seguo su FB, una vera erede di Mary Blair.

Inviato da: Hiroe il 9/11/2019, 1:00
Ma quindi questo corto è uno spinoff che verrà proiettato nelle sale prima del film per introdurre la mitologia a cui fa riferimento il film? In effetti quello nel disegno sembra il Nokk, no?

Inviato da: veu il 9/11/2019, 23:25
Alcune notizie in più sul cortometraggio:

Dal sito https://www.awn.com/news/new-disney-vr-short-myth-frozen-tale-debuts-tonight-frozen-2-world-premiere:

New Disney VR Short 'Myth: A Frozen Tale' Debuts Tonight at 'Frozen 2' World Premiere

Immersive cinematic exploration of the 'Frozen 2' world, from 'Cycles' director Jeff Gipson, weaves music and visuals together to take viewers on a magical Arendelle forest experience.

BURBANK – Walt Disney Animation Studios will debut its groundbreaking new VR short, Myth: A Frozen Tale, at the November 7th World Premiere of Frozen 2 at the Dolby Theatre in Hollywood. Directed by Jeff Gipson (Disney Animation's Cycles), Myth: A Frozen Tale explores the world of Frozen 2 in an immersive way using the latest advances in VR technology, an original music score, and stylized art direction to deliver a unique virtual and visceral experience. Myth: A Frozen Tale is the first Disney Animation VR short inspired by one of its feature films. Gipson had previously helmed Disney's first-ever VR short, Cycles, which debuted at SIGGRAPH in 2018, won The Advanced Imaging Society's 2019 Lumiere Award for "Best Animated VR Experience," and received 2 VES nominations.

Premiere guests will be able to view Myth: A Frozen Tale on the latest generation of the Positron Voyager Chair, which provides a cinematic VR experience showcasing Positron's unique motion and multi-sensory capabilities which brings the audience into a deeper level of immersion and emotional connection to the story. [Users sit comfortably in a virtual reality motion chair while rotating 360 degrees horizontally, as well as 35-degrees backwards and forwards. The chairs are being provided under a special arrangement with Positron.]

Myth: A Frozen Tale was produced by Nicholas Russell who also helped oversee Disney Animation's Short Circuit experimental film program. Jose Luis Gomez Diaz served as VR Technology Supervisor on the film. Both worked on the award-winning Cycles with Gipson. Frozen and Frozen 2 visual development artist Brittney Lee is the production designer.

Commenting on the announcement, Clark Spencer, president of Walt Disney Animation Studios, said, "Frozen 2 takes place in such an incredibly rich and exciting cinematic environment, and Myth: A Frozen Tale allows viewers to explore and experience this world in a whole new way. Jeff Gipson is one of the leading pioneers in the world of VR, and he found a way to immerse viewers in this world that wouldn't have been possible any other way. We are so excited to share this amazing VR film with audiences everywhere."

Gipson added, "The idea for Myth: A Frozen Tale came from a personal place for me, and was inspired by my family's tradition of telling bedtime stories. This led me to start thinking about what the world of Frozen and some of the film's new elemental characters would look like in VR. Myth: A Frozen Tale is set in a forest outside of Arendelle as a family sits down for a bedtime story. As the mother reads, the audience is transported to a mystical and enchanted forest where the elemental spirits come to life and the myths of their past and future is revealed. With breathtaking production design by Brittney Lee, and a brilliant musical score by Joseph Trapanese, this film follows in the Fantasia legacy of using imagery and music together in an experimental way, using the latest advances in virtual reality to achieve that."

Jeffrey Travis, CEO of Positron, said, "We're thrilled to see Disney Animation embracing cinematic VR as a story-telling medium, and Positron is excited to have partnered with the filmmakers of Myth: A Frozen Tale to bring a deeper level of immersion with motion and haptics in our award-winning Voyager chair. Audiences are going to love this film."

Russell noted, "The Positron Voyager chair allows the viewer to truly immerse themselves into the storytelling. As a tool for experiencing cinematic VR, the Positron Voyager chair is unrivaled."

The partnership between Positron and Walt Disney Animation Studios to enhance the VR film was secured by StudioLAB. StudioLAB's strategy is to continuously innovate new ways to experience content and assist Studio creatives in pushing the limits on advance technology.

Announcements on where VR and Frozen fans can view the short to come.

Inviato da: veu il 22/1/2020, 0:40
Il cortometraggio sarà presentato al Sundance Festival 2020:

Dal sito realite-virtuelle.com:

Lors de l'avant-première mondiale de " La Reine des Neiges 2 ", organisée à Los Angeles en novembre 2019, Disney avait présenté un court-métrage en réalité virtuelle intitulé " Myth : A Frozen Tale ". Basé sur l'univers de " La Reine des Neiges ", il s'agit du second court-métrage VR du géant américain de l'animation.

Cependant, deux mois après cette diffusion, Myth n'est toujours pas disponible pour le grand public. Néanmoins, les visiteurs du prestigieux festival Sundance auront la chance de découvrir cette expérience lors de la prochaine édition. Celle-ci prendra place du 24 janvier au 2 février à Park City, dans l'Utah


Dal sito CNet.com:

Walt Disney Animation Studios will show off its second virtual-reality project -- a VR short film based on Frozen 2 -- on the sidelines of the the Sundance Film Festival later this month in Park City, Utah. Titled Myth: A Frozen Tale, it's only the second time Disney Animation has ventured into VR storytelling, and it's the first time Disney Animation has moved one of its blockbuster franchises into a VR short film.

Myth debuted in November at the world premiere of Frozen 2 in Los Angeles but hasn't been released widely. At Sundance, movie-industry insiders and press will get a chance to experience it.

Last year, Disney exhibited its first ever virtual-reality short film, Cycles, at Sundance, where director Jeff Gipson revealed Disney Animation had green-lighted another "top secret" VR short also directed by himself. Joining Gipson on Myth from the Cycles team is Nicholas Russell, who said last year that Disney's quick green light for a second VR short "is proof that they might not know exactly what tomorrow looks like for Disney and VR, but we're going to keep exploring."

Disney's interest in VR comes as Disney has restructured itself around streaming service Disney Plus, a Netflix-like subscription that launched Nov. 12 for $7 a month. With Disney CEO Bob Iger calling Disney Plus the company's top priority, the Disney's VR experiments suggest its embrace of new tech will reach wider than streaming.

Disney has shown a tentative interest in VR as a gaming medium over the last year. Disney has produced several Marvel-based VR games and another VR game based on Disney Animation's Ralph Breaks the Internet. Its Pixar animation studio also created a VR project based on Coco in partnership with Facebook's Oculus in 2017.

Inviato da: veu il 1/2/2020, 21:05
Immagini dello sviluppo del cortometraggio: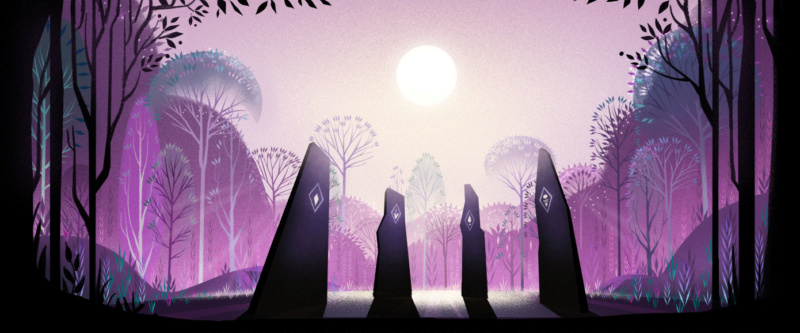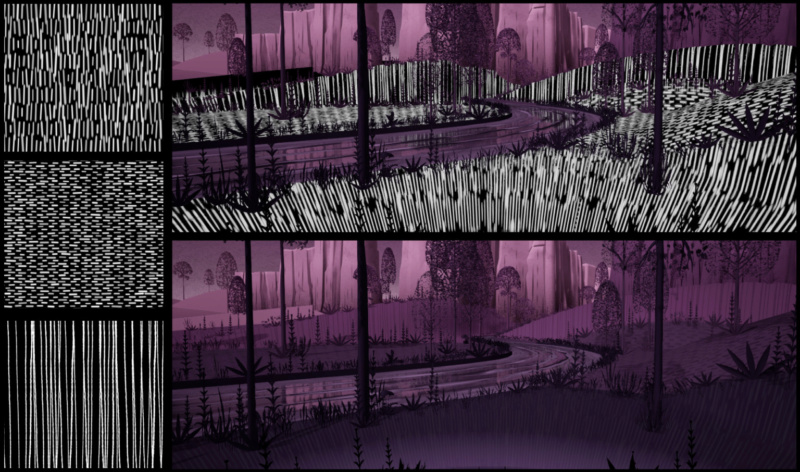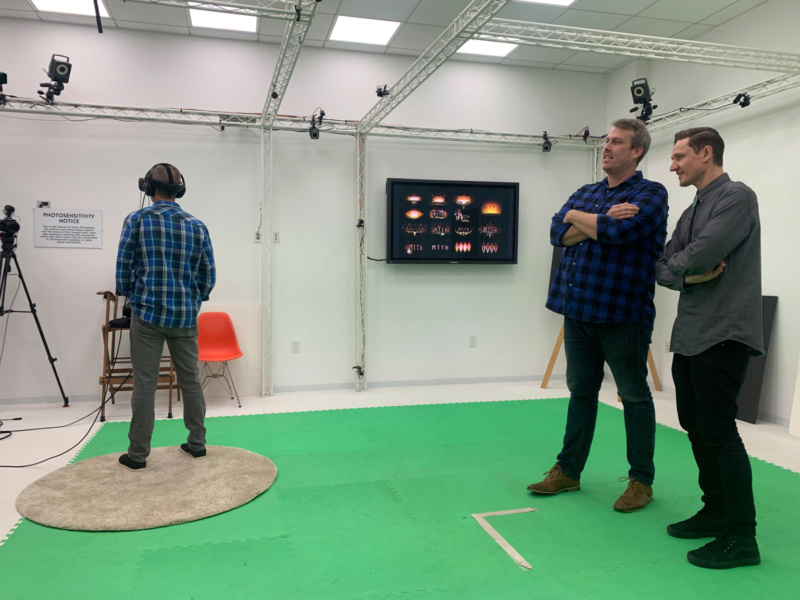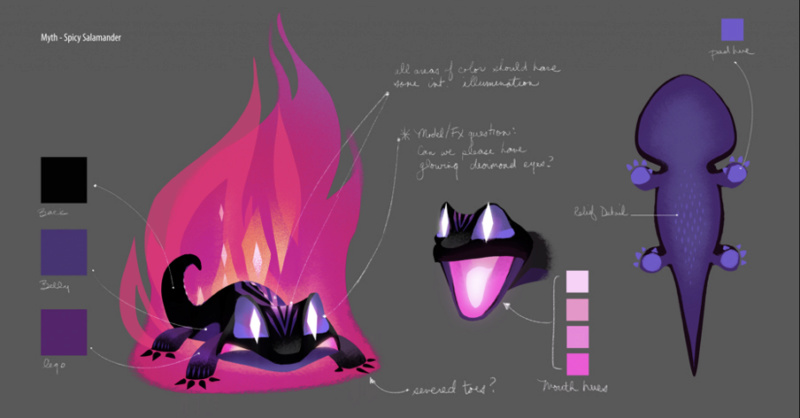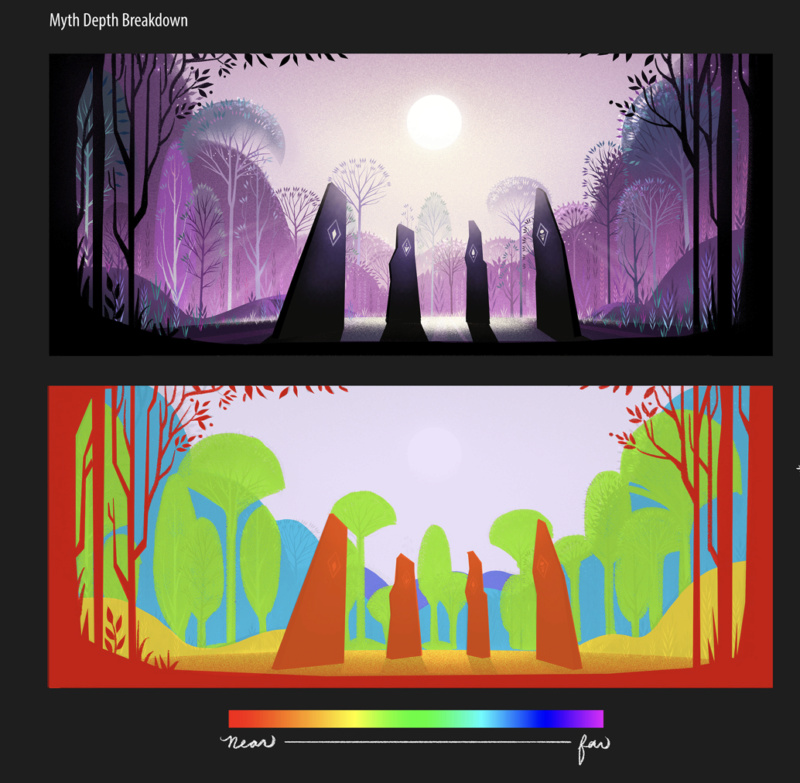 Inviato da: veu il 1/2/2020, 21:08
Il Nokk di Myth: a Frozen Tale realizzato da Brittney Lee. Ecco il suo commento su https://www.instagram.com/p/B7rhhnMn2X5/:

When we decided that the Nokk would play an important role in Myth: A Frozen Tale, we knew we needed to push the Nokk in a more stylized direction than what was in the movie, and it felt like the perfect opportunity to push that ethereal-ness as much as possible. I had fallen in love with Annette Marnat's and @jamwoodser 's beautiful, almost glowing visual development work of the Nokk for #Frozen2, and wanted to evoke a similar magic for Myth.
We also needed two versions of the Nokk for Myth - a dark and a light version. These images are some of my exploration for what the VR Nokk could look like. I was so happy to have the chance to explore this character since I didn't get to work on the Nokk in the film (and who DOESN'T want to paint a magical water horse???) I'm so happy with the final result, and I can't wait until everyone can have the opportunity to experience the film! We are at #sundance this weekend and are working on ways for everyone to watch Myth:A Frozen Tale soon! If you happen to be at Sundance this weekend, come find us at the Disney Studio Lab space on Main Street!❄
#disneyfrozen #disney #mythafrozentale #frozen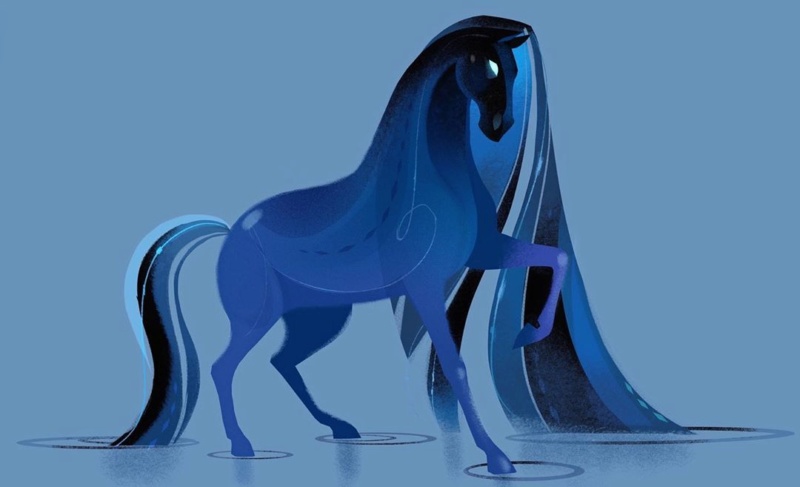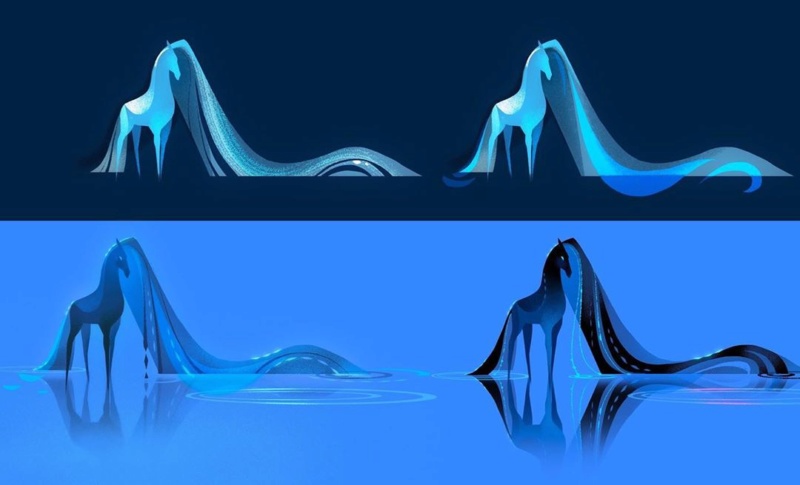 Inviato da: veu il 1/2/2020, 21:10
Da https://twitter.com/NickaRuss/status/1219680378987761665:

Evan Rachel Wood, la voce americana della Regina Iduna in Frozen 2, ha dichiarato che sarà lei la narratrice del cortometraggio:

I had the pleasure of narrating this. It truly is stunning. https://t.co/6iZgvyKPPM

— #EvanRachelWould (@evanrachelwood) January 22, 2020