Versione Stampabile della Discussione
Disney Digital Forum _ Walt Disney Studios _ The Merlin Saga: Mago Merlino (Live-Action) o Young Merlin
Inviato da: Scissorhands il 27/3/2014, 13:36
E poteva mancare La Spada nella Roccia al recente lista di riadattamenti made in Disney (anche se abbiamo già un King Arthur Touchstone ma quello è molto dark storico, lontano dalla nuova moda iniziata con Alice)?
http://www.hollywoodreporter.com/heat-vision/tomb-raider-writers-adapt-young-691394

'Tomb Raider' Writers to Adapt 'Young Merlin' for Disney (Exclusive)
12:09 PM PDT 3/26/2014 by Borys Kit
10 42 1 0 0 Email Print Comments
"Life of Pi" producer Gil Netter is on board to produce the adaptation of the T.A. Barron book series.
The Lost Years of Merlin Book Cover - P 2014
Disney's Merlin project has conjured up a pair of writers.
OUR EDITOR RECOMMENDS

'22 Jump Street' Writer Tackling 'Heist' for DreamWorks

Kevin Spacey to Play Winston Churchill (Exclusive)

Hollywood Already Exploring a Malaysia Airlines Movie
Patrick Massett and John Zinman, the scribes who wrote Lara Croft: Tomb Raider, have been tapped to pen the adaptation of The Lost Years of Merlin, the YA book series written by T.A. Barron.
Gil Netter (Life of Pi, The Blind Side) is producing.
Disney's movie adaptation is being titled Young Merlin at this stage. The books centered on a teen who will one day be the powerful mage who sits at the right hand of King Arthur. But first he has many lessons to master, including how to temper his darker leanings and his pride.
STORY: Fox to Bring 'Magic: The Gathering' to the Big Screen
Much of the action takes place on the enchanted isle of Fincayra, where the teen wizard embarks on many a quest with female companion Rhia and wannabe jester Bumbelwy. The antagonist is Rhita Gawr, a spirit world warlord.
Over the years, several other companies have tried to mount an adaptation of the books, including Miramax, with Lorenzo di Bonaventura producing, and Paramount, where Simon Kinberg was working on it. As late as 2011, Warner Bros. was developing a script with Donald De Line producing.
Zinman and Massett wrote the indie drama Gold, which landed on the Black List and had Michael Mann attached at one point. They also worked on Go Like Hell, which has Joseph Kosinski attached to direct, Tom Cruise attached to star and Brad Pitt circling to join them.
The pair are repped by CAA, Industry Entertainment and Hansen Jacobson.
Email: [email protected]
Twitter: @borys_kit

Inviato da: Klauz_star il 27/3/2014, 20:32
sul giovane merlino? e magari scoprire come mai lui e maga mago sono rivali (magari compare fata morgana)

Inviato da: Simba88 il 28/3/2014, 17:10
A pelle mi attira di più questo di tutti gli altri remake live-action dei Classici effettuati dal 2010!

Inviato da: Claudio il 28/3/2014, 23:44
CITAZIONE (Klauz_star @ 27/3/2014, 19:32)
e magari scoprire come mai lui e maga mago sono rivali (magari compare fata morgana)
scoprire questo particolare sarebbe sicuramente interessante!
e anche La spada nella roccia avrà il suo live-action!
Inviato da: GasGas il 30/3/2014, 16:28
Mmmmm..... Molto poco interessante... Se devono continuare il franchising delle trasposizioni di classici Disney in live action , io continuerei a puntare sulle fiabe... Mi piacerebbe vedere una loro versione live de la sirenetta oppure potrebbero fare una bellissima versione live dei libri da cui è tratto taro e la pentola magica, m pare che hanno i diritti!!! Potrebbe diventare il signore degli anelli Made in Disney:)

Inviato da: Zogy il 18/11/2015, 0:18
Infermabile Walt Disney. Dopo i recenti annunci dei reboot di Mary Poppins e Crudelia De Mon, infatti, la casa di Topolino ha deciso di resuscitare un altro celebre personaggio del proprio catalogo, niente di meno che il Mago Merlino di La spada nella roccia.

Per l'occasione, la major ha ingaggiato la sceneggiatrice Philippa Boyens (Il Signore degli Anelli), affidandole l'adattamento di The Merlin Saga, collana composta da ben 12 libri scritta da T.A. Barron.

Quindi, il Merlino che vedremo non sarà ancora il mago potente che tutti abbiamo conosciuto, bensì un giovane alle sue prime avventure. Com'è evidente, l'intenzione della Disney sarebbe quella di avere fra le mani un nuovo franchise cinematografico per ragazzi, magari in stile Harry Potter.

Questo, ovviamente, dipenderà solo dall'eventuale successo della prima pellicola: chi potrebbe esserci alla sua guida come regista? E, soprattutto, chi potrebbe vestire i panni di un giovane Merlino? Rimanete con noi per i prossimi dettagli!

Fonte: BestMovie: http://www.bestmovie.it/news/walt-disney-prepara-una-saga-live-action-sul-mago-merlino/428573/

Riprende quanto riportato dal sito http://deadline.com/2015/11/philippa-boyens-the-merlin-saga-the-lord-of-the-rings-disney-1201627184/:

Disney Sets 'Lord Of The Rings' Co-Writer Philippa Boyens To Write Young Merlin Movie

EXCLUSIVE: Disney has set Philippa Boyens to script an adaptation of The Merlin Saga, based on the series of books written by T.A. Barron. Life Of Pi's Gil Netter is producing. It's a coup for the studio to land Boyens, who hasn't really worked outside her long collaboration with Peter Jackson and Fran Walsh, with whom she shared the Oscar for Best Adapted Screenplay in 2002 for the Best Picture winner The Return Of The King. She has teamed with Jackson and Walsh on The Lord Of The Rings and The Hobbit trilogies, as well as King Kong and The Lovely Bones.

It turned out that when Sean Bailey's Disney division called, it was a fortuitous moment, and the formative story of the iconic wizard was the right subject matter. Boyens came from New Zealand to meet with Bailey and supervising execs Tendo Nagenda and Foster Driver, and Merlin was a character and a world that appealed to her. Also, Jackson and Walsh are only just beginning to figure out what next after finally being able to poke their heads out of Middle Earth. So there is time. Boyens has a good relationship with Alan Horn, who at Warner Bros greenlit The Hobbit and was an exec producer on the trilogy.

The studio now has a writer with a strong grasp of how to launch a franchise in a period fantasy world, and a franchise is certainly a hope for the Merlin movie. The young wizard is the center of a much larger story where the stakes are no less than the future of magic in the world.

Warner Bros has already completed production on King Arthur: Knights of the Roundtable, with Guy Ritchie directing, but this sounds like it could be a closer cousin to a series like Harry Potter as a wizard figures out his spell-weaving abilities. Barron has created plenty of room in his origin story, as the book series spans 12 volumes. Disney picked up the books after Warner Bros let them go. Patrick Massett and John Zinman were the first scribes brought on.

Boyens is repped by Ken Kamins of Key Creatives and attorney George Davis at Nelson Davis.


Inviato da: IryRapunzel il 18/11/2015, 0:45
Io mi sono fermata a "infermabile".
Inviato da: veu il 5/1/2018, 12:36
Dal sito http://variety.com/2018/film/news/ridley-scott-merlin-saga-director-disney-1202653790/:

Ridley Scott in Talks to Direct 'Merlin Saga' Adaptation at Disney (EXCLUSIVE)

Ridley Scott might have found his next directing project: "The Merlin Saga" for Disney.

Scott's production company Scott Free is also in negotiations to produce along with Gil Netter. Philippa Boyens is the writer.

Disney and Scott's reps could not be reached for comment. While a deal isn't closed yet, sources close to the situation believe this will be Scott's next movie.

Based on the T.A. Barron books, the series followed the origin story of a young Merlin who would go on to become the mentor of the classic literary character King Arthur.

"Merlin Saga" is one of two films Disney is currently developing based on the Merlin character. The studio is also working on a live-action "Sword in the Stone," on which Scott also met with execs.

While several films have focused on the King Arthur legend, the only high-profile story to focus specifically on the story of Merlin was the NBC miniseries "Merlin" that starred Sam Neill.

Tendo Nagenda and Foster Driver are overseeing the project.

Scott is coming off one of the busiest years in his career. The latest "Alien" movie, "Covenant," bowed last May. He just recently released the J. Paul Getty story "All the Money in the World," which he began shooting shortly after "Covenant."

"All the Money in the World" star Kevin Spacey was jettisoned following allegations of sexual assault and harassment by a number of men, including Anthony Rapp, who said Spacey made a pass at him when he was underage. Scott made the unprecedented move of replacing Spacey with Christopher Plummer and reshot his scenes in a matter of weeks in time for the film's Christmas Day release.

Scott is repped by WME.


Traduzione: Sarà Ridley Scott, il famoso regista americano, a occuparsi del progetto. Ridley ha avuto un incontro anche con i produttori dell'altro film arturiano attualmente in sviluppo alla Disney, La Spada nella roccia. Ha scelto di occuparsi della saga di Merlino.


Commento: speriamo che Ridley Scott riesca a realizzare un film fiabesco ben fatto come fu il suo Legend nel 1985. Se poi contiamo che nella squadra vi è anche lo staff che ha realizzato la saga del Signore degli Anelli, questo film potenzialmente ha le carte in regola per essere un successo.
Ricordiamo che da sempre Ridley Scott (sin dai tempi di Legend) voleva occuparsi delle leggende arturiane, scrisse pure prima di Legend una sceneggiatura per Tristano e Isotta che però non venne prodotta e allora virò la sua attenzione sul fiabesco Legend, film che fu snobbato dalla Disney di allora (che si rifiutò di produrlo in quanto troppo europeo e poco americano) e che con il tempo, nonostante inizialmente fosse stato un insuccesso, è diventato uno dei film cult di generazioni intere collocandosi a pari merito di grandi film fantasy anni 80 come La Storia Infinita, Labyrinth, Ladyhawke e La Storia Fantastica oltre ad aver ispirato le miniserie fiabesche italiane (i vari Fantaghirò, Desideria, Sorellina, Principessa e il povero) ed americane (vedesi i vari Merlino, Gulliver, Regina delle nevi della Hallmark produzioni) e la cinematografia fiabesca odierna (come Biancaneve e il Cacciatore e Maleficent) .

Inviato da: Daydreamer il 6/1/2018, 1:41
Per poter dare una svolta alle diverse riproposizioni arturiane degli ultimi anni, io desidero solo una cosa: spingere tantissimo sull'elemento magico, da renderlo il nuovo Harry Potter e sull'ironia scanzonata del Merlino della Spada nella Roccia, quale fosse l'ideale prequel, così da cancellare il relativo live action e non subire una bulimia non necessaria.

Inviato da: veu il 6/1/2018, 12:36
Crediamo che tengano ben distinti i due progetti... certo che quello su Merlino è quello che ad oggi ha la priorità. Speriamo però che anche La Spada nella Roccia veda la luce e che quel film non sia la mera copia carbone del cartone ma inseriscano nuovi elementi, tra cui il personaggio della Regina Ginevra che vorremmo troppo vedere realizzata...

Nella Saga di Merlino si parla delle origini del Mago, sono una serie di romanzi molto alla Signore degli Anelli per capirci, molto fantastici però con un tono fiabesco di fondo, basta pensare che la fidanzata di Merlino è una Fata che si può trasformare in daino... per questo speriamo che Ridley Scott segua lo stile del suo Legend del 1985 in quanto quel film è ciò che di più magico sia stato creato al cinema, ricordiamo ancora i commenti entusiasti di gente che vide Legend e ci disse che "non c'è niente di più bello di Legend"... eravamo bambini, appassionati della Storia Infinita, Labyrinth, Nel Fantastico Mondo di Oz e Darby O'Gill e il Re dei Folletti (oltre che delle fiabe classiche alla Cenerentola e Biancaneve e dei film animati come il Signore degli Anelli), e avevamo sentito questo commento su Legend di Ridley Scott da parte di persone che avevano visto il film .
per questo speriamo che Ridley Scott sappia catturare nuovamente lo stile leggendario che permea Legend e trasporlo nelle vicende di Merlino.

Inviato da: veu il 2/2/2018, 12:23
Dal sito http://omegaunderground.com/2018/02/01/ridley-scotts-merlin-adds-prometheus-cinematographer-production-designer/:

Ridley Scott's 'Merlin' Adds 'Prometheus' Cinematographer and Production Designer

It was recently announced that Ridley Scott was in talks with Disney to finally return to fantasy with Merlin Saga, a franchise adaption of T.A. Barron's fantasy novels that focus on a young Merlin years before the Arthurian legend.

Scott last tackled the fantasy genre with 1985's Legend.

The script will be penned by Philippa Boyens, who co-wrote the Lord of The Rings and Hobbit films.

Omega Underground has learned that Scott isn't wasting any time and has already hired two regulars as key crew members on the Disney film. As Prometheus production designer Arthur Max (Gladiator, The Martian, Robin Hood) and cinematographer Dariusz Wolski (Sicario 2, All The Money In The World, Alien: Covenant, The Crow, The Martian) have joined the project.

This crew update might suggest that Ridley has indeed signed on to direct.

Merlin is currently without production or release dates.

Inviato da: veu il 2/2/2018, 20:29
Nuove notizie sempre di oggi:

Dal sito http://omegaunderground.com/2018/02/02/disneys-merlin-saga-lands-gladiator-costume-designer/:

Disney's 'Merlin Saga' Lands 'Gladiator' Costume Designer

Yesterday, we revealed that the Walt Disney Pictures adaptation of T.A. Barron's Merlin Saga hired cinematographer Dariusz Wolski (Prometheus, Sicario 2, The Martian, Exodus) and production designer Arthur Max (Prometheus, Gladiator, Robin Hood, Kingdom of Heaven).

The fantasy project focusing on a young Merlin and his adventures will be adapted by screenwriter Philippa Boyens (Lord of The Rings trilogy, Hobbit trilogy) with Ridley Scott reportedly in talks to direct.

Another Ridley Scott regular has joined Merlin, as Oscar-Winner Janty Yates will tackle the film's costume design. Yates won her Oscar for the stunning work on Gladiator.

Her other credits include multiple Ridley films including Kingdom of Heaven, American Gangster, Body of Lies, Robin Hood, Prometheus, The Counsellor, Exodus: God's and Kings, The Martian, Alien: Covenant, and All The Money In The World.

Merlin seemingly assembling Scott regulars would suggest Disney has landed him to direct. However, Disney hasn't made it official and we don't have production/release dates.

Scott had been eyeing Fox's The Cartel as his next film.

Inviato da: veu il 24/3/2018, 13:17
Dal https://twitter.com/_ChristopherM/status/962093946695495680 (autore di diversi articoli sul sito Omega Underground, colui che ha annunciato il film e la regia affidata a Ridley Scott):

Hmmm.. @AnthonyHopkins hanging around the MERLIN SAGA production offices at @DisneyStudios. A HANNIBAL reunion with Ridley Scott on the table? #Merlin #MerlinSaga #Disney #ThorRagnarok

Rumor: sembra che Anthony Hopkins sia stato visto aggirarsi attorno agli uffici Disney dove è stanziata la produzione della saga di Merlino. Che ci sia una reunion tra lui e Ridley Scott dopo Hannibal?

Inviato da: veu il 22/5/2018, 23:36
Dal https://twitter.com/TABarronAuthor/status/998954413581455360:

Back at Disney Studios this week for the Merlin movie. Good progress — Merlin magic is in the air! I'm grateful for the vision of studio executive @TendoNagenda, whose recent credits include Beauty and the Beast and A Wrinkle in Time.

L'autore dei romanzi sulla saga di Merlino, T.A. Barron, riferisce che il film prosegue bene. Tra gli artisti che vi lavorano vi è Tendo Nagenda che ha lavorato a La Bella e la Bestia e a Nelle pieghe del tempo.

Inviato da: veu il 9/6/2018, 0:07
Dal sito https://omegaunderground.com/2018/06/08/disney-ridley-scotts-merlin-saga-looking-to-film-at-shepperton-studios/:

Disney/Ridley Scott's 'Merlin Saga' Looking To Film At Shepperton Studios

Disney recently hired Ridley Scott to direct an adaption of the Merlin Saga based on the books by T.A. Barron with a script from Lord of The Rings and Hobbit screenwriter Phillipa Boyens.

We previously revealed that Scott would reunite with cinematographer Dariusz Wolski and production designer Arthur Max on the film.

Production was eyeing a shoot in the UK and Omega Underground has now learned they are expected to shoot on the stages at Shepperton Studios in Surrey, England. Scott has long-standing relationship with the UK facility filming projects there such as Alien, Blade Runner, G.I. Jane, Gladiator, and Robin Hood.

Anthony Hopkins had been spotted hanging around the production offices leading us to believe that he "could" end up reuniting with Scott and taking a role, the two previously worked together on Hannibal.

Disney has yet to give the film a release date and we will update once we get production dates for it.

Inviato da: veu il 13/8/2018, 17:10
Dal sito https://thegww.com/ridley-scotts-merlin-saga-adds-rogue-one-alien-covenant-sfx-supervisor/:

RIDLEY SCOTT'S 'MERLIN SAGA' ADDS 'ROGUE ONE/ALIEN: COVENANT' SFX SUPERVISOR

Ridley Scott's Disney film Merlin Saga is really starting to come together as the fantasy film is well into pre-production and indeed looks to be his next film. The film is based on the series of young Merlin stories written by author T.A. Barron and it's screenplay was written by Lord of The Rings/Hobbit screenwriter Philippa Boyens.

He's now hired veteran special effects supervisor Neil Corbould, who previously worked with Scott on projects such as Alien: Covenant, The Martian, Kingdom of Heaven and Gladiator. His other credits include Rogue One: A Star Wars Story, The Fifth Element, Ready Player One, Saving Private Ryan, and Mission: Impossible – Fallout.

Other crew members we've reported in the past that are working on Merlin Saga include cinematographer Dariusz Wolski and production designer Arthur Max

In June, we revealed filming is expected to take place at Shepperton Studios in Surrey, England, where Ridley has shot previous films such as Alien, Blade Runner, Robin Hood, and Gladiator. It's also become a reliable stage space for recent Disney films such as Beauty and The Beast, Mary Poppins Returns, John Carter, Alice: Through The Looking Glass, Into The Woods, and Guardians of The Galaxy.

It does sound like the next big step would be casting.

Production and release dates are currently unknown.

Inviato da: Scrooge McDuck il 14/8/2018, 13:44
Quindi i due progetti stanno procedendo entrambi?

Inviato da: veu il 14/8/2018, 15:25
Sì procedono entrambi.
Questo sarà per il cinema, La Spada nella roccia per la tv in streaming, la c.d. Disneyflix


https://tabarron.com/merlin-the-movie/ ecco la storia sulla lavorazione del film, dagli inizi quando fu proposto alla Warner Bros fino al passaggio alla Disney e alle notizie recenti:

Merlin the Movie

What a journey!
I'm totally thrilled that book 1 from The Merlin Saga is being made into a movie! The project is currently in the more-than-capable hands of Disney, with Oscar-winning screenwriter Philippa Boyens working on the script.

This whole movie experience is, let me tell you, one AMAZING journey. With a plot even more bizarre than one of my fantasy novels. But I'm glad to tell you the big news:

The film, based on The Lost Years, is making great progress! I'm very excited about what lies ahead!

Because I can't keep up with all the questions and comments from fans, I will update this page regularly. Any big news that I can share will be announced right here on this page. After all, you folks are my companions on this journey!

The Journey Before 2012:
As some of you know, I've been working to make The Merlin Saga a film for quite a long time — 17 years (and counting). It's been quite a journey, and it's taken me through many ups and downs across 4 major studios. But the goal has never been just to make a movie — the goal is a truly awesome movie … or no movie at all. I'd much rather have no film than one which isn't up to the highest levels of artistry and meaning. Merlin — and you — deserve nothing less!

Through all this, you have been with me. So has a certain wizard. And who knows where this journey will ultimately take us? Wherever that may be, I have a feeling it will be somewhere magical.

From September, 2012:
Just received the first draft of the script. Though we still have much work to do … the script is beginning to take shape. Most important, it remains true to the spirit of our friend Merlin.

From December, 2012:
Good news — Warner Bros. Studio recently renewed its option to develop this film. That's a good sign of their excitement about this project — though still a long way from the Merlin movie we all want to see.

More good news: As part of this process, the studio has asked a certain writer to help on the screenplay — somebody by the name of T. A. Barron. I'm delighted to have this new opportunity to help WB create a powerful, magical movie about young Merlin's adventures! So all of you friends of Merlin out there … send your magic toward Hollywood.

From October, 2014:
Here's the big news: I recently moved the Merlin movie project to a new studio — Disney. At Disney, it's had a wonderfully enthusiastic reception — and I am greatly impressed with the professionalism and passion of everyone involved. Best of all, Disney is busy assembling a truly terrific team!

We have a fabulous producer, Gil Netter. Among other films, he produced Life of Pi, The Blind Side, and Ghost. In addition, the project has attracted a pair of outstanding writers, Patrick Massett and John Zinman, to work on the script.

We still have much hard work to do … but with this team in place, and the strong support for this project at Disney, I am very encouraged. And the leader of our team, as always, is Merlin himself. He continues to inspire us all!

From January, 2015:
We're making great progress on the script — the essential first step in any movie. And since this movie will be about the origins of Merlin, the greatest wizard of all time, that script needs to be absolutely terrific! It must be worthy of Merlin. That's the goal — nothing less.

My producer Gil Netter (Life of Pi, The Blind Side, Ghost) and the writers John Zinman and Patrick Masset have been working hard to craft a script that will bring the origins of Merlin to life on the big screen. Since this film will be based on my books from The Merlin Saga, they have been very inclusive of me in this process. All of us want this film to be true to the authentic young wizard who has captured the hearts of people everywhere.

In addition, the people at Disney have been the best studio partners imaginable — hugely helpful in every way. I couldn't be more excited!

From November, 2015:
I'm absolutely thrilled that Philippa Boyens has joined the Merlin movie project! She is truly world class. As a creator of powerful epic fantasy on the big screen, there is nobody with more wisdom, artistry, authenticity, and (I'm delighted to say) pure magic!

February, 2017 – Right now I'm in Wellington, New Zealand. It's a beautiful place to be for any reason — especially for creative meetings with Philippa Boyens, the wonderful script writer who is working on the Merlin movie for Disney. She's a brilliant story teller, a true master of her craft, and I love the way she thinks. We're having fabulous, wide-ranging conversations. Exciting!

I'm learning a lot about how very different writing a film is from writing a novel — even as the basics of powerful storytelling remain constant. And I'm feeling very grateful to the folks at Disney for including me so fully at this stage of the filmmaking process (highly unusual for the author of the books). While this movie will necessarily be different in some ways from the books, they are doing a marvelous job of bringing to life the most essential and enduring elements of Merlin's adventures. I'm eager to watch the process develop — and more excited than ever to see the movie someday! There's still much hard work to do…but we are well on the way.

November, 2017 – Today the script arrived for the Disney movie based on The Merlin Saga. It's truly fabulous! Yes, even magical. All I can say is I'm thrilled with what script writer Philippa Boyens has done to adapt this story to the big screen.

Inviato da: veu il 21/2/2019, 0:48
Ecco un po' di news:

* i personaggi del film saranno quelli dei primi due libri della saga.
* le riprese inizieranno questo autunno.

Dal sito https://hnentertainment.co/exclusive-ridley-scott-aiming-to-start-shooting-disneys-merlin-saga-this-fall-character-breakdowns-revealed/:

EXCLUSIVE: Ridley Scott Aiming To Start Shooting Disney's 'Merlin Saga' This Fall – Character Breakdowns Revealed

While Ridley Scott is going to busy for the next little while with his TNT sci-fi series Raised By Wolves, his next film will be an adaptation of T.A. Barron's series of novels of a young Merlin for Walt Disney Studios. The script was penned by Oscar-winning screenwriter Philippa Boyens, who is best known for writing the Lord of The Rings and Hobbit trilogies.

HN Entertainment has exclusively obtained the film's character breakdowns and some production information.

Emrys (male lead 12-15). Caucasian. The boy who would become the legendary wizard Merlin. Emotionally erratic. Eccentric. Prone to wild mood swings. Brilliant. Sometimes, he is calm and controlled, thoughtful, with a hint of mad whimsy.

Branwen (female lead 30-40): Caucasian. Emrys' mother.

Rhiannon (female lead 12-20): Open to any ethnicity. Seeks Emrys' assistance in stopping a terrible blight which is now beginning to kill the forest she lives in.

Shim (male lead 20-40): Open to any ethnicity. A dwarf-sized giant, befriend Emrys.

Rhita Gawr (female lead 30-50): Open to any ethnicity. An evil spirit who wants to control Fincayra before moving on to Earth. Enemy to Emrys, the film's villain.

While it's been referred to as "Merlin Saga", the project's current working title is "The Lost Years". There is a good chance it could end up being called Merlin: The Lost Years.They're also aiming for a fall production start.

Inviato da: veu il 9/6/2019, 21:06
Continua la lavorazione del progetto che pian piano inizia a prendere forma.

Dal https://tabarron.com/merlin-the-movie/:

May, 2019 – Good progress on the Merlin movie at Disney! After two days of meetings, I'm very pleased with what is happening — and wherever Merlin is right now, I'm sure he feels the same. Here are my notes from the meetings at the studio…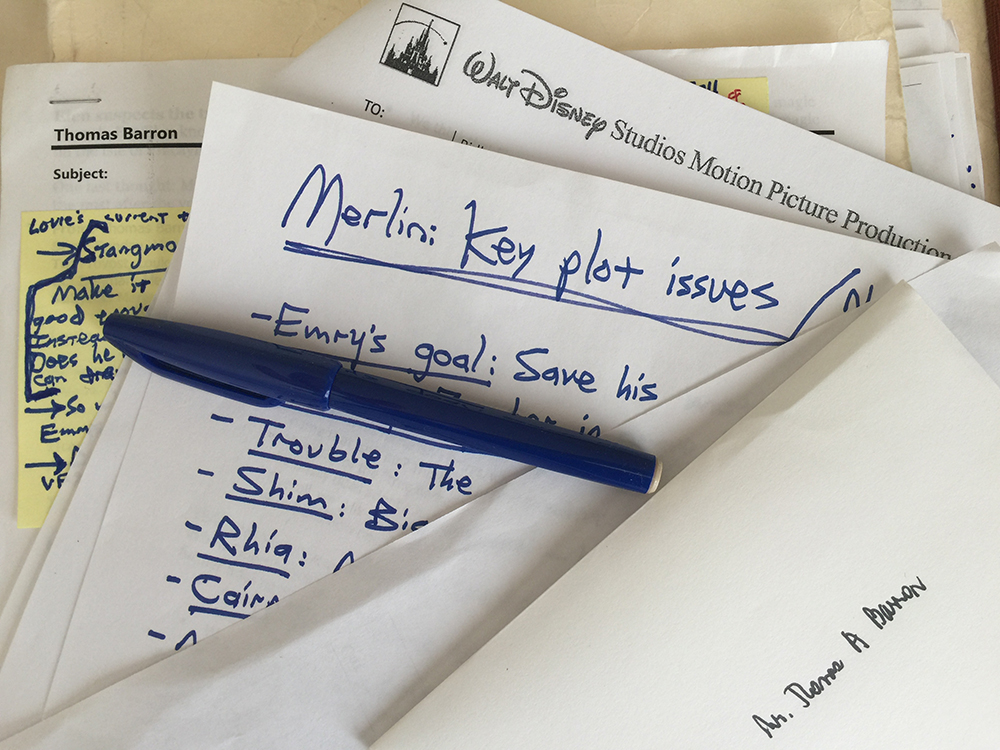 Inviato da: veu il 18/10/2019, 18:58
Dal profilo https://twitter.com/TABarronAuthor/status/1185236098009710593:

Just saw this in a rural Colorado cafe. As I head to Disney next week for meetings on the Merlin movie... I take this sign as a sign!

Inviato da: theprinceisonfire il 18/10/2019, 20:44
Ma mago Merlino (e in generale tutto il ciclo di Artù) è stato sinonimo di insuccesso in ogni produzione recente, eccezion fatta per la serie "Merlin"... perché mai insistere?
Non vedo molti margini di esplorazione, a meno che non si vada un po' di più sulla storia di Morgana, come ne "Le nebbie di avalon"; altrimenti direi che la sfida è davvero impervia.
Certamente, la trama di quei romanzi sembra piuttosto innovativa ed i personaggi non sono noti ai più, ma proprio per questo non so quanto potrà attirare il pubblico senza il richiamo di Artù, Ginevra, Lancillotto e nemmeno Morgana.

Inviato da: Daydreamer il 18/10/2019, 21:20
Vedila così prince, la Disney con Merlin vuole realizzare il suo Signore degli Anelli (dopo il flop del filone di Narnia) o meglio ancora il suo Trono di Spade.

Fornito da Invision Power Board (http://nulled.cc)
© Invision Power Services (http://nulled.cc)