Versione Stampabile della Discussione
Disney Digital Forum _ Walt Disney Studios _ Soul
Inviato da: Daydreamer il 19/6/2019, 20:56
Rivelato titolo e regia del nuovo film Pixar atteso per il giugno 2020, a soli tre mesi dall'uscita dell'altro film Pixar atteso per quell'anno, Onward.

Da https://www.comingsoon.net/movies/news/1076907-soul-pixar




Pixar has announced that Disney and Pixar's title Soul will be their next big summer animated feature, which will arrive in theaters on June 19, 2020. It will follow-up Pixar's first original film of 2020, Onward, which released on March 6.

The official tagline for Soul reads: "Ever wonder where your passion, your dreams, and your interests come from? What is it that makes you… YOU?" The movie will take you on a journey from the streets of New York City to the cosmic realms to discover the answers to life's most important questions.

The movie will be directed by Oscar winner Peter Docter (Up, Inside Out) and will be produced by Oscar nominee Dana Murray (Lou). Soul will release against Universal's untitled Judd Apatow and Pete Davidson comedy, and Warner Bros. In the Heights adaptation. The animated movie will also open a week before Paramount's Top Gun: Maverick flies into theaters.

Inviato da: veu il 19/6/2019, 23:29
Se fanno 2 Pixar ci sarà anche 1 disney o cambiano scheda? vedremo...
Comunque ora come ora è tempo che annuncino anche il nuovo Disney (Dragon Empire o altro che sia)

Inviato da: Hiroe il 23/6/2019, 19:12
Che progetto ambizioso, e mooolto intrigante... Sono felice di sentir parlare di così tanti progetti originali, speriamo in un buon sviluppo! Dopo inside out, quindi, hanno deciso di puntare di nuovo su temi profondi e introspettivi, qui filosofici, a quanto pare.

Inviato da: veu il 3/8/2019, 12:14



Secondo i rumors, al D23 verranno forniti ulteriori dettagli sulla storia da parte del regista così come un annuncio del cast e alcune prime immagini (di ricerca quantomeno).

Dal sito https://thedisinsider.com/2019/08/02/d23-expo-2019-disney-pixar-marvel-and-star-wars-movie-predictions/:

Soul

Not much on this film, so we expect to get additional story details from director and Pixar COO Pete Doctor, along with casting announcements and first-look footage.

"Ever wonder where your passion, your dreams, and your interests come from? What is it that makes you… YOU? Soul takes place between New York City and the cosmic realms."

Soul will hit theaters on June 19th, 2020.

Inviato da: veu il 25/8/2019, 0:08
Dal sito https://comicbook.com/marvel/2019/08/24/marvel-d23-star-wars-footage-live-updates-recap-expo/#7:

Soul will talk about how babies already have a personality. "Each one of us was born with a soul," a fiilmmaker says. The souls train at a seminar at You Academy before graduating and joining the world to live a life of purpose. "In the case of Joe Gardener, there has to be a mistake because things haven't gone the way he expected." He is a middle school band teacher who has to listen to bad music all day so he goes home and plays his own jazz to get his fulfillment. His dream is to play at New York's most prestigious jazz club, The Half Note.

Footage from the movie takes over. Joe plays on stage, beautiful music with a band. "My only purpose on this planet is to play," he says. "It's what I was meant to do and nothing's gonna stop me." He is asked where he's been by the woman on stage. She demands he stop working at the school because they have shows now. He is thrilled. He walks home oblivious to many of the dangers but everything goes his way until he falls into a pothole. His soul emerges in a black screen and he is confused.

While in this other world, Joe is going to meet another soul and it has been there for so long and does not want to go life on earth. "Together, the two of these guys are going to find a way to get Joe back to earth." The entire cosmic and extravagant journey will teach Joe what it means to have soul. They are working with Jon Batiste, along with Trent Reznor and Atticus Ross of Nine Inch Nails.

Curly is voiced by Ahmir "Questlove" Thompson from The Roots. Joe's mother is Phylicia Rashad. Joe's mother is Phylicia Rashad. Daveed Diggs is Paul. Jamie Fox and Tina Fey are the leads.


Inviato da: Hiroe il 25/8/2019, 19:31
Magnifico, non vedo l'ora, continuano con i temi psicologici/filosofici come Inside Out.. Spettacolo!

Inviato da: Daydreamer il 7/11/2019, 0:22
Nuova foto esclusiva pubblicata da Entertainment Weekly




Da https://thedisinsider.com/2019/11/06/entertainment-weekly-shares-a-first-look-at-pixars-soul/?fbclid=IwAR3EYMMtls1-v1bVubOcUB1RpzGkFv5mEM96m_2mb6FGlqH3vrmLA9r-6NI

Entertainment Weekly Shares A First Look At Pixar's 'Soul'

Entertainment Weekly has given us a first look at Pixar's upcoming film Soul, directed by Pete Docter (Up, Inside Out) and featuring the voice talents of Jamie Foxx (Ray), Tina Fey (Mean Girls), Daveed Diggs (Upcoming The Little Mermaid remake), Questlove (The Roots), and Phylicia Rashad.

Joe Gardner, voiced by Foxx and shown in the EW first look image at the upcoming animated feature, is the epitome of this idea. A middle school teacher and jazz musician living in New York City, he's someone, Powers continues, "who's lived his whole life like he was meant to do this one thing [music] to the exclusion of pretty every other thing."

"Like Inside Out, we're taking you to a world where no one's ever been — well, for a long time, we went in a completely different direction than any of the other films that Pete's done, it's hard to contain our enthusiasm over how much people are going to be surprised by what they see." says producer Dana Murray.
The film will focus on who we are and why are we here as the movie sees souls trained at the You Seminar. Joe meets 22, a soul who loathes humans and avoids earth. According to Docter, she's the teenager with the attitude: "You know, it's all boring and dull. Who cares? It's all stupid." Fey who voices 22, contributed "a little bit of writing" for the character in the script, which Docter simply teases "has been great." Joe and 22 eventually team up and try to get his soul back to his body on Earth, which involves a journey through cosmic realms.

"We talked to a lot of folks that represented religious traditions and cultural traditions and [asked], 'What do you think a soul is?'" says Docter, who now heads Pixar. "All of them said 'vaporous' and 'ethereal' and 'non-physical.' We were like, 'Great! How do we do this?' We're used to toys, cars, things that are much more substantial and easily referenced. This was a huge challenge, but I gotta say, I think the team really put some cool stuff together that's really indicative of those words but also relatable."

As Powers puts it, this "soul world" explains aspects of why our real life is the way that it is, "everything from why a person has a certain personality to the ongoing futility of the New York Knicks." Like Joy, Sadness, Anger, and Disgust, approaching such grand questions about our very existence in "a really fun way" was crucial.
With compositions from Jon Batiste, Atticus Ross, and Trent Reznor, music naturally became a central part of Joe's story and his journey. As Docter notes, the Pixar minds wanted a profession the audience could "root for." They thought about science and chemistry, but nothing felt so naturally pure as a musician's life. "Yet, on one level, [it's] somewhat selfish," Docter adds. "Any artist will have to admit that by doing all this work" — practicing alone for hours on end to achieve some semblance of perfection — "it's a little bit of a selfish endeavor. Once we landed on music, it really set the trajectory for the rest of the film."

It's also a journey that feels endlessly relatable for anyone who defines their lives based on career achievements. For Docter, he sees Joe as a metaphor for filmmaking.

"I've been doing animation for 30 years," he says. "I love it, I can't get enough of it, and then I also recognize this is not the end-all, be-all of everything." He recognizes that, without that obsessiveness to write, he wouldn't be where he is today. But, at the same time, "there are children and life experiences and food and all these other things in the world that you can't say are less important than animation. I would maybe have said that at certain times in my life."

Soul, the director continues, is "an exploration of, where should your focus be? What are the things that, at the end of the day, are really going to be the important things that you look back on and go, 'I spent a worthy amount of my limited time on Earth worrying or focused on that'?"

Soul is scheduled to hit theaters June 19th, 2020.

Inviato da: kekkomon il 7/11/2019, 8:59
Oggi il teaser.

Inviato da: Hiroe il 7/11/2019, 10:40
Non vedo l'ora *___* questo è il progetto animato migliore in cantiere al momento alla Disney, secondo me.. anche Raya non sembra male, ma questo pare su tutto un altro livello ... Complimenti a Pete Docter anche solo per aver avuto questa idea, così come per Inside Out..

Inviato da: Daydreamer il 7/11/2019, 20:57
https://www.youtube.com/watch?v=4TojlZYqPUo

Teaser Poster


Inviato da: Hiroe il 13/11/2019, 18:48
Sono quasi l'unica a rispondere per questo film, non interessa ad altri?
Comunque OTTIMO il teaser, si capisce già parte della trama.

Inviato da: Daydreamer il 13/11/2019, 19:52
Gli utenti amanti della Pixar sono per lo più desaparecidos sul forum (fortuna tiene Scrooge-Valerio
) tutti gli altri, compreso il sottoscritto, siamo per lo più Disneyani tradizionalisti credo, quindi meno coinvolti dalla Pixar; infatti i topic di titoli come Gli Incredibili 2 o Toy Story 4 sono praticamente deserti. Avrà più fortuna Onward-Oltre la magia, decisamente il più disneyano dei nuovi progetti della Casa della Lampada.

Inviato da: Hiroe il 13/11/2019, 22:44
Anch'io sono molto disneyana, se così si può dire, ma amo l'animazione in generale, e non vedo l'ora escano nuovi lungometraggi animati. E quelli Pixar sono comunque il meglio che c'è sul mercato oltre Disney

Inviato da: Daydreamer il 28/1/2020, 21:41
Poster Cinese, distribuito in occasione del loro Capodanno: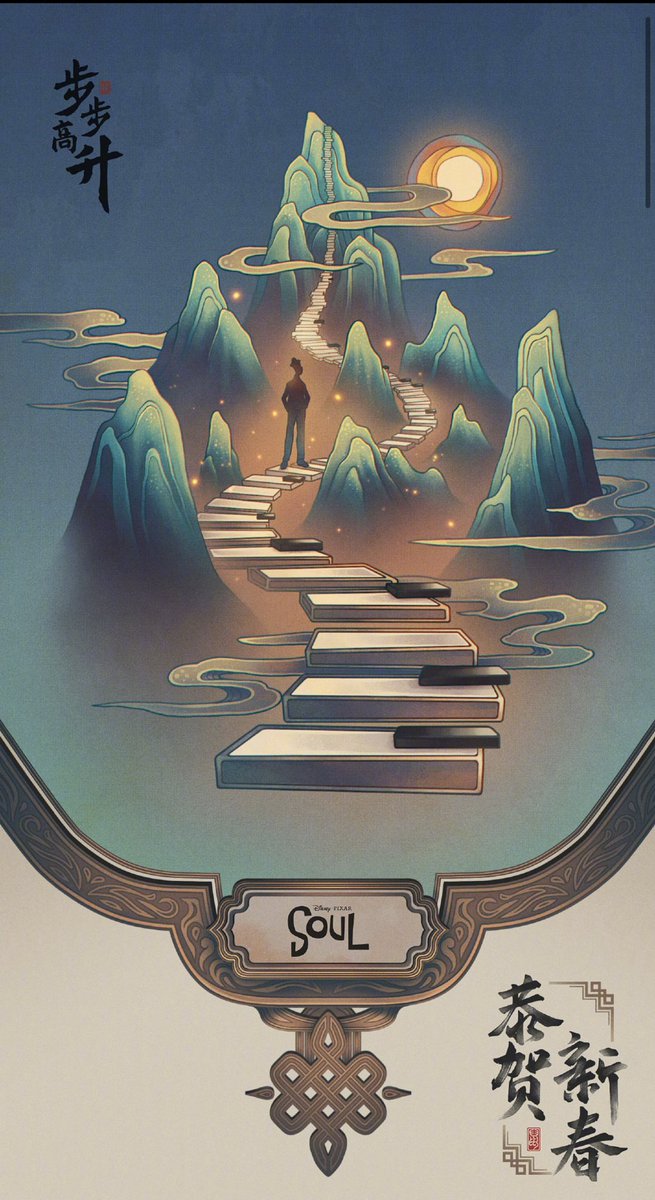 Inviato da: Hiroe il 28/1/2020, 23:43
Bellissimi questi poster cinesi, c'è da dire che quello di raya è quasi tirato lì, c'è l'unica immagine che hanno divulgato finora al centro e poco più..

Inviato da: Hiroe il 15/3/2020, 12:30
Da https://www.wired.it/play/cinema/2020/03/12/dopo-inside-out-e-coco-soul-il-trailer-che-e-poesia/:

Dopo Inside Out e Coco, Soul: il trailer è poesia

In questi tempi di emergenza sanitaria, il trailer di Soul è una boccata di ossigeno. Anzi, è quasi un'ora d'aria in una giornata di quarantena. Dopo le emozioni di Inside Out e l'aldilà di Coco, quei geniacci della Disney Pixar provano (e ci riescono) ad approfondire i meccanismi dell'anima, quella che a un certo momento ci abbandona e torna da dove era venuta. Ma se questo accadesse nel momento sbagliato, tipo a Patrick Swayze in Ghost?

Qui è ciò che succede al protagonista Joe Gardner, dinoccolato insegnante di musica di scuola media che finalmente può esibirsi nel migliore locale jazz di New York. Ma puff, gli basta un attimo e una fatalità sciocca per ritrovarsi nel regno cosmico, un luogo fantastico in cui le nuove anime ricevono personalità, peculiarità e interessi prima di finire sulla Terra. Determinato a riprendersi la sua vita, Joe si allea con tale 22, un'anima ancora in formazione, che non riesce a cogliere il fascino dell'esperienza umana. Ci penserà lui a portarla sulla retta via.

Soul è diretto dal due volte premio Oscar Pete Docter (Up, Inside Out), che ha dichiarato: "Abbiamo parlato a lungo con persone che rappresentano tradizioni religiose e culturali molto diverse, abbiamo chiesto loro: Che cosa pensi sia un'anima? Risposta: un'entità vaporosa ed eterea, non fisica. Allora, ci siamo domandati come tradurla visivamente. Siamo abituati a creare automobili, giocattoli, oggetti fisici, facili da definire. È stata una sfida incredibile, ma il team è riuscito a mettere insieme qualcosa di davvero efficace e, soprattutto, riconoscibile".

Le composizioni jazz sono del musicista rinomato in tutto il mondo Jon Batiste. La colonna sonora – molto soul, ça va sans dire – porta la firma di Trent Reznor e Atticus Ross dei Nine Inch Nails, vincitori della più ambita statuetta con The Social Network.

Evoluzione della pandemia e provvedimenti permettendo, Soul sarà nelle sale italiane il 16 settembre.

Ed ecco il trailer ufficiale https://www.youtube.com/watch?v=xOsLIiBStEs

Inviato da: Daydreamer il 4/4/2020, 9:28
Nessuno parla più di questo film (ahimè bistrattato, chissà che non si riveli una sorpresina) che al momento è l'unico ad aver mantenuto l'uscita al 19 giugno 2020 e forse sarà il caso di tenercelo stretto, essendo uno dei pochi prodotti made in Disney in uscita da qui a diversi mesi...

Fonte: https://deadline.com/2020/04/black-widow-mulan-artemis-fowl-marvel-movies-release-date-changes-box-office-coronavirus-1202900118/

Inviato da: Hiroe il 4/4/2020, 11:13
Perché bistrattato?! È il progetto più interessante della Pixar da Inside Out, ne stanno parlando benissimo, e accozza in maniera incredibile con il periodo che stiamo vivendo. C'è bisogno di pensare alla spiritualità in momenti di lutti continui come questo.. io non prevedo una sorpresina, prevedo un film che entrerà nella storia!

Inviato da: Scrooge McDuck il 4/4/2020, 11:55
Io non credo proprio che uscirà a giugno se continua così, la situazione negli USA è fuori controllo purtroppo..

Comunque non ne ho parlato molto, ma questo film mi ispira moltissimo! Al di là della trama geniale e intrigante, che riesce a portare avanti in maniera intelligente il "what if" della Pixar, nel trailer ho apprezzato soprattutto le musiche splendide e ho notato alcune scene con animazioni e stili più ricercati (sulla scia di Inside Out quando vanno nel subconscio).

Inviato da: theprinceisonfire il 4/4/2020, 15:01
Questo film sembra una gemma, ma l'uscita nelle sale a Giugno è utopia pura. Prenderà verosimilmente il posto di Raya a novembre, dato che quest'ultimo sembrerebbe ancora essere in pre-produzione.

Inviato da: Hiroe il 4/4/2020, 15:16
Sicuramente slitterà.. scrooge, il genere musicale che permea questo film è il Soul, direi che il titolo indica sia l'anima che questo genere musicale, ed avrà un ruolo molto importante nel film, anche se non credo che sarà un musical.

Inviato da: veu il 10/4/2020, 0:08
C'è l'idea che il film venga spostato a Natale 2020 al posto di Raya o addirittura vada su Disney +, il primo Pixar originale per Disney +

Inviato da: Daydreamer il 13/4/2020, 21:42
Il film slitta al 20 Novembre. Per ora scampata distribuzione su Disney+.

Fonte: https://variety.com/2020/film/box-office/pixars-soul-release-delayed-until-november-1234576092/?fbclid=IwAR1cnbWfapc0gP6uw4XW6j1-2ne-j9zWSzskvF0D1HSKLJYgeQ3wlbPhN4c

Inviato da: Daydreamer il 3/6/2020, 20:25
"Soul" è stato selezionato tra i film che verranno presentati alla nuova edizione del Festival di Cannes.

Da https://variety.com/2020/film/news/cannes-2020-lineup-pixar-soul-wes-anderson-french-dispatch-1234624250/

Inviato da: Daydreamer il 9/8/2020, 22:43
Nuovo bel poster internazionale


Inviato da: Hiroe il 10/8/2020, 0:11
Certo che ci vogliono un bel po' di caratteri per scrivere "Soul" in giapponese...

Cioè: sono ironica, ma come cavolino l'hanno chiamato?

Inviato da: Scrooge McDuck il 10/8/2020, 14:36
Google translate me lo traduce così: "Soulful World"

Inviato da: Hiroe il 11/8/2020, 3:21
Grazie scrooge!! Sei stato gentilissimo a togliermi questa curiosità!

Ora devo capire come hai fatto a inserire i caratteri giappo su Google translate! Li copi da siti orientali?.. sono curiosa XD

Inviato da: Scrooge McDuck il 11/8/2020, 12:56
CITAZIONE (Hiroe @ 11/8/2020, 3:21)
Grazie scrooge!! Sei stato gentilissimo a togliermi questa curiosità!

Ora devo capire come hai fatto a inserire i caratteri giappo su Google translate! Li copi da siti orientali?.. sono curiosa XD
No, in realtà non ero sicuro fosse giapponese, quindi ho cercato tra le varie pagine Wikipedia nelle altre lingue. Quando ho trovato quella che aveva i caratteri identici a quelli nel poster pubblicato sopra ho copiato il titolo da wikipedia e l'ho incollato su Google translate (che ha riconosciuto da solo che era effettivamente giapponese)
Inviato da: kekkomon il 11/8/2020, 13:04
In Giappone hanno sempre titoli che sembrano poesie xD

Inviato da: veu il 14/8/2020, 12:14
Dalle storie di Instagram di Skyler Shuler di The Disinsider:

Forse Soul andrà direttamente in streaming come esclusiva alla pari di Mulan?


Fornito da Invision Power Board (http://nulled.cc)
© Invision Power Services (http://nulled.cc)